Hey guys, I am Jennifer and I want love GFE phone sex, I want to be your phone sex girlfriend! Do you miss having someone special in your life, a beautiful girl who you can share things with, someone to talk to when you need her, someone to be intimate with? I am here for you. If you don't know what GFE is, it means Girlfriend Experience. Most men want a secret virtual girlfriend who will indulge their fetish, fantasies and more. Right now I don't have a boyfriend. After I broke up with my last boyfriend, I made a promise to myself to find the right man next time. And I tried a few singles dating sites, it was lame. Maybe you're my secret Mr. Right? Call me for GFE Phone Sex and we can explore mutual needs and desires.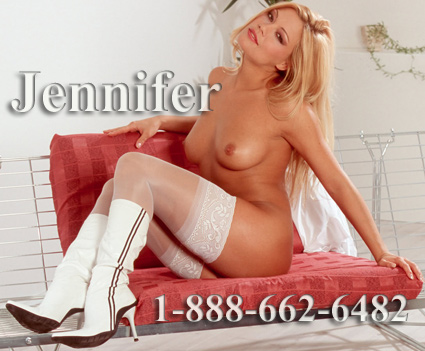 GFE Phone Sex calls are also about going deeper into knowing each other personally and sexually. This experience can be very intimate and erotic and also fun. We can do couples dates where we eat dinner at the same time and chat or watch the same movie or tv show or sporting event together. The possibilities are endless. I really love being a girlfriend and I could be very special to you if you would let me.You can tell me anything at all and know that I will always be in your corner. I'll stroke your ego and your body.
I have a few favorite sex toys that I like to use when doing GFE calls, so I can feel everything you want me to feel when we are making love. I also enjoy doing sweet bedtime calls and reading bedtime erotic stories to you to arouse you and then, of course, take care of your arousal. Being your phone sex girlfriend is all about you and your pleasure.
For GFE Phone Sex call Jennifer 1-888-662-6482