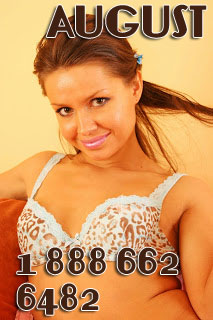 Well hello there boys!  I am August and love to get down and dirty with your filthy desires.  The best part is that nothing is off limits because the more raw we can go the more wet I get.  Just think about that, connecting to my sexy voice, while I am still in my bed.  Late at night or maybe sneaking around in the afternoon while you are still at the office perhaps.  That has to be one of my all time favorites.  When I know you are at work and am not sure if you left the door open or not.  Maybe you will get caught and just love the trill.  That really turns me on, being the kinky phone sex slut on the other end.  Making you drip from the tip and telling you how to stroke.  I want to own your cock and you make it so easy for me.  Another fun one  is when wifey is home and we get to do all the tasty delights that she doesn't let you do anymore, or maybe she never did.  Do you have that lusty fetish that you can't share with any body else?  We all do and that is what I want to rock and roll with you….
Now, what could it be that makes you stand up, rock hard and shoot a load so full I could taste it in my mouth and throat even if you were filling up my pussy.  That sweet, sticky treat that lets me know just how amped up you are big boy, or is being called a "bad boy" more of your thing?  *smiles, giggles*  I know we can find that HOT button of yours and push on it.  My sensitive spots are being pushed and pulled at right at this moment, we can indulge in that together.
Come and dive into the sin den with me, August I am always hot, wet and ready to be your kinky phone sex slut: 1-888-662-6482.
AIM and Yahoo: augustishotnwet