Its a wet Monday. Literally nothing is pulling me from my bed today. Well ok other than a few things like needing some coffee which happened to be a run to the drive thru lane at my favorite coffee shop. Hey I was even too lazy to wanna make breakie so it was toss clothes on and head out the door for this kinky phone sex vixen.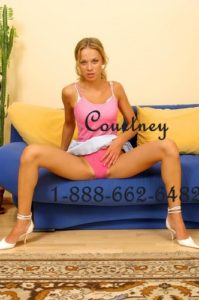 Something about no panties and joggers that get me excited. Bald pussy rubbing up against that soft material. Ya was a good thing I ran out for some coffee cause I returned super wet and excited.
How excited? Lets just say that I have been up for hours and only now are my fingers finally finding time to hit the keyboard and well they are not typing so well. Perfect Monday morning spent masturbating and sharing in some wild phone sex fantasies.
Some of the fantasies were true tales of what guys were up to or almost up to this weekend. Sorry am pretty sure a few were near misses but definitely fun to role play them and enjoy the sticky outcome.
Being a kinky phone sex vixen means this pussy even though its cum a few times isnt ready to quit just yet. Its one of those super insatiable days. So I am hoping a few of you are feeling the same way and eager to jack off to some hot, kinky and even taboo sex stories with myself.
You can reach me by calling 1-888-662-6482 just ask for Courtney the dispatcher will take care of the rest.