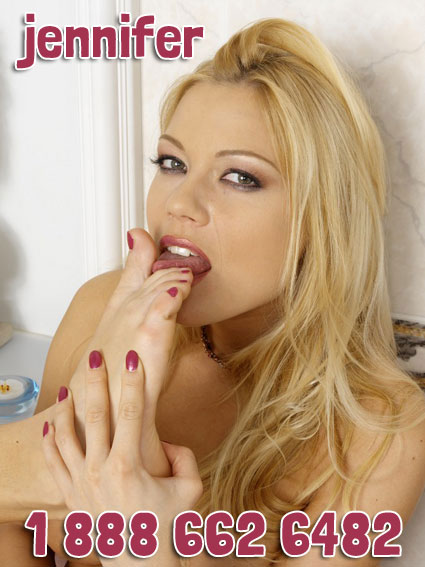 You love sexy feet don't you?  Can't wait until summer when us girls slip off those boots and shoes and go for sexy strappy sandals to show off our pedicures.  Just thinking about my sexy painted toes, my high arches and perfect size 8 feet make your balls start to tighten and your cock begin to grow.  You need foot fetish phone sex with a woman who understands just how sexy and sexual feet can be!
Kneel at my feet and admire them from up close.  Ask nicely and I will not only let you kiss my toes, but I will encourage you to lick them and taste them and feel them wiggle on your lips.  Feel the arch of my foot tighten as you slide your tongue all the way up.  Gently suck on each toe like a little cock and be treated to my legs spreading and the wetness of my panties.  Make love to my feet just right and I might even cum without you even touching my pussy!  I really do love having my feet pampered, adored and worshiped.
Close your eyes and listen to me to tell you about my red painted toes tickling your inner thighs and teasing your balls.  Imagine your cock fucking the high arches of my feet and my toes curling over the head.  Barefoot or in stockings, I like it both ways.  I get so fucking hot and wet giving your cock a foot job on our foot fetish phone sex call.  When you need to be with someone who not only indulges your foot fetish fantasies but really gets off on it, then I am the girl for you.  I'm wiggling my toes, stretch my legs, arching my feet and beckoning you over ….
Foot fetish phone sex with Jennifer is just what you need.  Call 1-888-662-6482 and ask our friendly dispatcher to be connected with me.  I'm waiting

AIM and Yahoo: FetishGoddessJennifer