Hiya there! A-MA-ZING Ariel here! All of my callers know I am a naughty, sultry, seductive tease. I just love to tease and then I love to deny pathetic losers. I am a girl that knows what she wants. I know how to get what I want, and I know how to use what I've got. Giggles. I just love to bring my prey to the edge, then I like to stop just before the big explosion. I know, that is crazy hot, right?Just one of the many reasons I love anything goes tease and denial phone sex.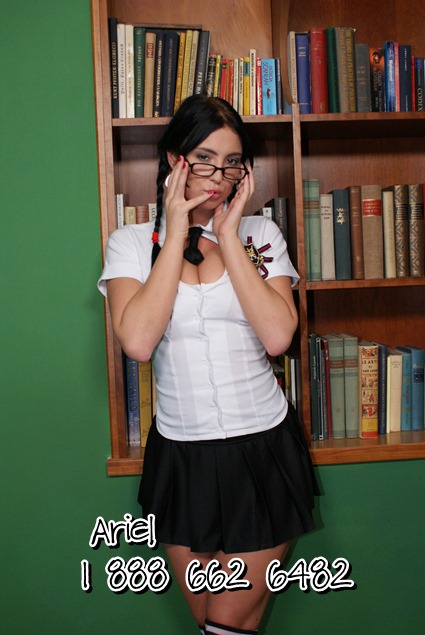 Just one look at my pictures and the tease starts. It is undeniable that I have it all. You know it, I know it, I mean come on! I have perfectly perky titties, a nice round asset, and the qualities go on. The best part? I look sweet and innocent, gets the pervert fuckers every time. Especially those guys that dare make a tease and denial phone sex date with me and then claim something came up. Evil laughter.
Do I look like a woman that can be taken advantage of like that? Ha! I don't think so! Instead of me allowing him to cum the next time he calls, and believe me he will call, he will get a taste of my wrath. Or maybe he can pay-up spoil me and I will think about forgiveness. Nah! I am not that nice, nor am I that easy! I can't wait to seek my revenge, edge him closer and closer then STOP! I know he's already saving a big load for me, which is punishable if I find out he cheated on our deal. All I have to do is say hello, the first sound of my voice, is the end.
Are you ready to play? What will be in store for you? Will you cum or will you go? Call 1 (888) 662-6482 and ask for amazing Ariel for Tease and denial phone sex.
What will be the outcome? Good or Naughty? Release or blue balls? Stay tuned to find out…
Yahoo: amazingariel
AIM: amazing_ariel
Twitter: brattyprncssAri