I know you know me as mostly a bratty domme, but the truth is that I am totally a coed phone sex slut. I mean, it has to be the right kind of guy. I'm not gonna fuck or suck a nerd or someone ugly, but as long as a guy is hot and has a really big dick, then I'll fuck anyone. Well, I shouldn't say I won't fuck a nerdy ugly guy. I would if the price was right or I could get something for me out of the deal. I mean, it's not like I'm going to do it out of the kindness of my heart. Like I said, you know I'm bratty!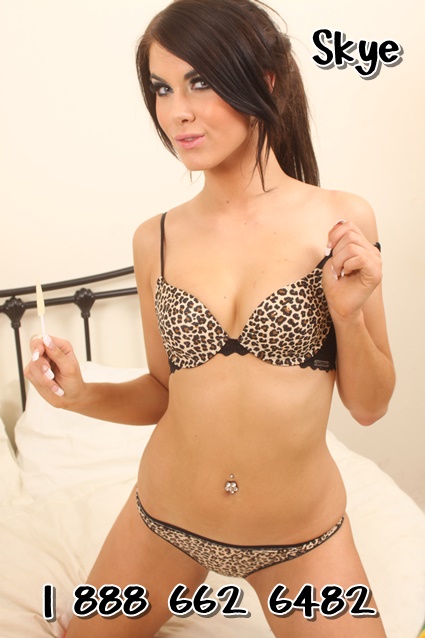 I really love when the weekends come and there are frat parties that I can bounce around between. I'm quite popular on campus and all the guys love seeing me walk into a party. They know that they can just grab me and tell me they want to fuck and 9 times out of 10, I'll say yes. Sometimes I don't even say anything – I just get down on my knees or bend over in front of them.
I'm a party girl, too. Give me a drink and maybe even something else, and I'm even more likely to spread my legs. I just can't get enough dick. I'd get fucked 10 times a day if I could. And sometimes when there are frat parties to go to, I do. I've had a couple super hot gang bangs, too. I'd love to tell you all about that. It's so hot that I'm gonna probably have to start rubbing my pussy while we talk.
Are you ready to talk to your favorite coed phone sex slut? Just call 1 888 662 6482 and ask to talk to Skye!
AIM: sultry_skye
Yahoo: sultryskye