Sometimes I touch myself so much I think I might have a real addiction to masturbating! I do it for hours a day in my dorm room, in my car when I'm stuck in traffic, in a movie theatre when I get bored, but best of all… when I am on the phone! I absolutely love mutual masturbation phone sex! Hearing your voice and the sexy sounds you make as you give yourself pleasure, knowing how hard your dick is as you slide your hand around it and thinking about the ways you could pleasure yourself with my body if you were here with me, it's almost going to make me cum just thinking about it!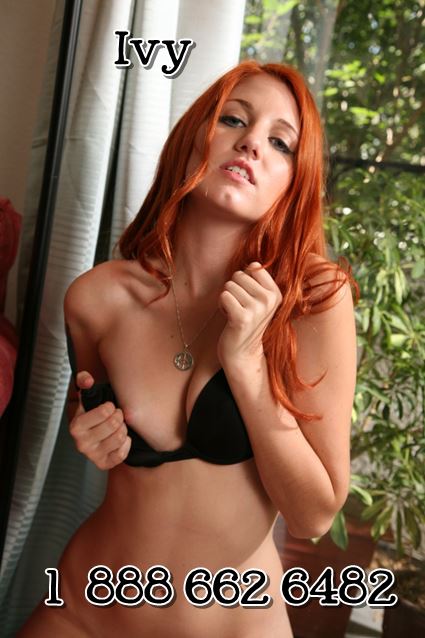 And the best part is that the pleasure will be mutual because you will hear my soft voice beg for your cock and hear me moan and whimper breathlessly as I cum for you! And for a really good time maybe we can helping each other with some sexy instructions! You can tell me how touch my body or how many fingers to use! And if you are feeling adventurous maybe we can even use some toys… you could tell me to fill all my holes, you can hear me slurp on a dildo, and you can hear my wet pussy as I finger myself! It makes me so horny taking direction from a man that knows how to please and of course I will please you in return! I can tell you how to wrap your hand around your cock and stroke it at just the right pace. Tell you to tease yourself and edge your way closer to the final release!
With this redheaded nympho you are guaranteed to have a sensual and naughty mutual masturbation phone sex experience! So if you are ready to cum together call 1 888 622 6482 and ask for Ivy!