Hi losers! I'm Skye and I'm pretty much the perfect phone sex brat. I like to fuck, but there is no way I would ever fuck the likes of you. Why? Oh, I don't know… maybe it's because you're a fat and ugly loser who still plays video games in his underwear while you eat entire bags of chips in one sitting. Gross. I don't someone like that. Or maybe it's because you have a tiny dick that looks more like a clit. Haha! There is no way that you could satisfy me with something that small.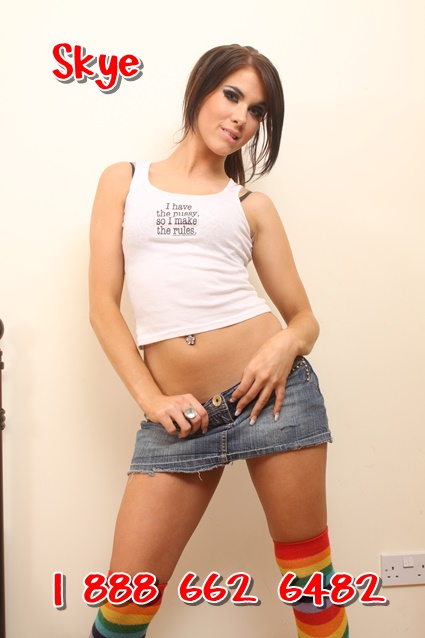 But don't you worry, loser! There is still a possibility that you can prove yourself useful to this phone sex brat. I mean, you could always call me and listen to me be mean to you about your tiny little cock. I love small penis humiliation so much! And don't act like I am the first girl to ever laugh at your teeny dick. I know you didn't go through your whole pathetic life without being laughed at when you have a dick that's that small. Well, unless no woman has ever seen you naked, which is a possibility since you're such a huge loser.
Or maybe you'll call me and tell me that you want to spoil me rotten. It happens all the time, so don't think that you'll be the only loser spoiling me. Guys just love giving me stuff. I guess it's because I'm so cute and I'm so much better than them. They know the only way they are getting even one second of my attention is to buy it.
I bet you're dying to talk to this phone sex brat now, aren't you? Well, then all you have to do is call me and pay to talk to me, loser! Dial 1 888 662 6482 and ask to talk to Skye!
AIM: Sultry_skye
Yahoo: SultrySkye